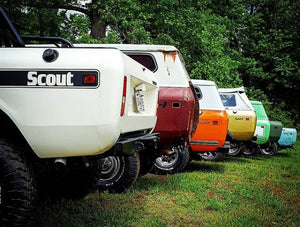 Scout Restoration 101
The first step in restoring your IH Scout or any vintage vehicle back to a solid running road warrior is to make sure you start with a 3 step mechanical evaluation of the vehicle. First you want to start with the basics. 
1. Check general safety items such as tires, seat belts, brakes, lights, turn signals and general wiring for the vehicle.
2. Make sure you have a solid running engine and give your engine the proper tune up and check all fluids to start.
3. Replace or test your battery to make sure you have a solid source of power.
For parts or custom made parts for your Scout, please shop our parts section here. We are happy to assist in getting you the parts you need for your restoration project.
If in the North Georgia area, feel free to stop by and we can give you a quote on restoring your vehicle back to its original state or help you customize it to your specifications.
---